---
1979 Buick Skyhawk
(Sold and moved to North Dakota in May of 2016)
[ Main H-Body Page ] [ Hatch Lift Experience ]
[ Technical Specs ] [ Sales & Marketing Literature ] [ Links ]
---
This is a story of a lucky and rare opportunity. My son John had been interested in Camaro and TransAms from the 70s for some time. I had created the web page for my first car (the 1975 Oldsmobile Starfire) and so as he has kept an eye out for cars over the past few months, he has looked for H Body cars from that era. Saturday (9/22/07), we were talking about the past and the Starfire came up. After dinner, he went surfing Craig's List and found this awesome deal.

It was a car at a high-end / classic car dealer in Portland - a one owner, 1979 Buick Sky Hawk with a little over 27,000 original miles and all of the meticulously kept service and repair records to prove it. It was literally the classic story of the little old lady driving it once a week to get groceries!
So I called them Sunday afternoon when they opened, it was still there, we drive in, test drive it, looked it over, talked about it, and John drove it home! His first time solo on the freeway as well! A day of milestones.
The following are our "before" pictures. This is the state of the vehicle as brought into the dealer from the owner and before we started cleaning and detailing it. As you can see, there is not a heck of a lot to do! This car looks like it was driven off of the lot in February of 1979 and it is now February of 1980! Crazy. Hard to imagine this baby has been taken care of like this.
October, 2007 - First thing we did was to take it to a local shop and have it inspected and a lube, filter, and oil change done. He also changed the fuel filter but said that other than that, it looked great. We ordered and got new shocks, ordered a speaker to replace the crappy stock one in the dash, and ordered a stereo system.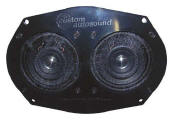 Speaker in the front is a direct replacement made by Custom AutoSound. It consists of two 50W coaxial speakers riveted into a frame that is the same form factor as the original mono speaker.
The cloth covered speakers feature large cobalt ferrite magnets, high-performance tweeters and foam bases. High frequency response. I originally saw this at J. C. Whitney but found it for $17 cheaper at Mac's.
I saved the speaker boxes that I had made at the cabinet shop I worked at in 1979 which held Jensen Tri-Axial speakers from my old 1975 Starfire. They still sounded good so we used them. This is the rest of the system purchased from Crutchfield.
John did the installation over a few weekends when we had time. It turned out clean and nice.
FINAL UPDATE: The plan was to keep this "vintage" but clean it up and maybe make a few aesthetic changes. Nothing that could not be reversed. But alas, as a new driver, "Mom" wanted John to be driving a newer car with modern safety features so the car sat.
I would run it from time to time but we never put more than a few hundred miles on it. I just did not feel like I wanted to "wear it out" on Oregon back roads so decided to put it up for sale. It sold to a fellow H-Body enthusiast in Minot, North Dakota in May of 2016. I sold it for about $2,000 less than I think it was worth, but it is going to a good home.
Of the stereo system above, we left everything intact but I kept my speakers and the subwoofer with the amp installed.
---
Based on the sticker on the door jam, our VIN and the above chart, our Skyhawk was made in February of 1979 at the Lordstown, Ohio plant.
---
Technical Information:
Body

Type

4/5S Hatchback

Number of doors

3

---

Dimensions & Weight
Wheelbase
96.9 in

Track

front

54.7 in

rear

53.5 in
Length
179.1 in

Width

65.4 in

Height

50 in

Length:Wheelbase ratio

1.85

Ground clearance

4.9 in

Fuel capacity

18.5 US Gal

---

Engine
Manufacturer
GM (Buick)
Type
V-6
OHV
12 valves total
2 valves per cylinder

Main bearings

4

Construction

Cast Iron

Bore × stroke

96.52mm × 86.36mm
3.8 in × 3.4 in

Bore/Stroke ratio

1.12

Displacement

(231.3 cu in) (3.791 liter)

Compression ratio

8.00:1

Fuel system

1 Ro carb

Aspiration

Normal

Catalytic Converter

Yes
Max. output
(DIN)
116.6 PS (115.0 bhp) (85.8 kW)
@3800 rpm
Max. torque
(DIN)
257.0 Nm (190 lbft) (26.2 kgm)
@2000 rpm

Specific output

0.5 bhp/cu in (30.3 bhp/liter)

Specific torque

67.79 Nm/liter

---

Chassis

Engine location

Front

Engine alignment

Longitudinal

Steering

recirculating ball
Turns
lock-to-lock
4.400

Turning circle

11.70 m

Suspension

Front

I.W.CS.ARB.

Rear

RA.LTRA.TA.CS.

Wheels F/R

/

Tires F

Tires R

Brakes F/R

Ventilated Disc / Drum

Transmission

3A

Drive

Rear Wheel Drive

Top gear ratio

1.00

Final drive ratio

2.56
---
Sales and Marketing Literature:

13x6 aluminum 10-hole


13" plastic wheel cover

Wheel Options
---
Parts Links:
Other Links:
---
Copyright © 1996-2022 -- Mike Dunton -- All rights reserved