[ Main H-Body Page ] [ Links ] [ Sales Brochure ]
[ 1977 Monza Production Specs ] [ Deciphering VINs ] [ Hatch Lift Experience ]
---
1977 Monza Mirage
Only 39,215 of the 2+2s were made in 1977 and of those,
only 4,057 hit the road with the MAT Mirage package.
At the time that this project was completed, it was the only restored Mirage on the road west of the Rockies!
---
Once in a great while, people pass in and out of your life to whom you share common interests, values and you become friends. Vern Dahnke (famous for this auto restoration work within classic British automobile circles) is one of those people.
Vern bought this Mirage in Oregon in 1996 and worked on restoring it in 2001 and 2002. This first set of pictures are the only ones that we know of documenting its before, during and after work.
Although this car is an original Michigan Automotive Technologies (MAT) Monza Mirage, some modifications to original factory specifications were done. Some purists may take issue, I feel that the changes are subtle enough to be tasteful and at the same time accomplish two things.
Firstly, Vern kept another extremely rare piece of automotive history out of the crusher and on the road, and secondly, the modifications improve the experience. The upgrades include:
The original stock (and underpowered) 305 cubic inch V8 was replaced with a 350 Cubic inch V8. The new V8, although not a racing engine by any means, is fed by an Edelbrock intake manifold and 4-barrel carburetor.
The factory radio was replaced with a Kenwood KDC-MP2035 system.
Several factory available accessories that were not on this car's original build sheet were installed. Without the original paperwork, I am not sure what this includes except for the most obvious, the rare, in-dash "digital" clock.
The red and blue stripes are professionally painted on and not decals. There are two schools of thought here. Some think that the stripes should be decals. However, there is precedent for the stripes to be painted.

The decals were notorious for being of poor quality and even when new and under warranty, faded, peeled and bubbled. To compound the issue, Michigan Automotive Technologies (MAT) was out of business within a couple of years after these cars hit the pavement, so since they were a "factory" option and covered under the original warranty, the dealer had no option but to paint the stripes. I personally like this look and durability of the painted stripes.
So how did I become the new "steward" of this awesome H-Body? As mentioned above, Vern and I clicked. It is the Mirage that led to our meeting. Since the first car that I ever owned was an H-Body, they have always held a special place in my heart. When my son came of driving age, to my surprise, he liked them as well and on his own, began researching them. This led to an article about Vern's Mirage and his automobile restoration shop and it turned out he was just a few miles up the road from me.
Long story short, in 2015, Vern decided to make major life changes that included simplifying and reducing his possessions to a bare minimum. And as hard to believe as it might seem, he wanted me to have and take care of his baby. He knew that I am a historical preservationist and that I am passionate about promoting this short-lived piece of General Motor's history.
It is now parked in my insulated and heated garage where it will be receiving the attention it needs to prepare it for the parade and car show season.
---
Here are pictures taken on May 19, 2016 for the insurance company.
---
6/1/2016 - I have been working on the 1977 Monza 2+2, mainly focusing on actually getting it running, and while I am at it, fixing the same little things on the Mirage. I installed a new LED interior dome light (there wasn't one installed) and after about a month of trying, got the hatch lifts replaced. There is a separate page for that "project."
---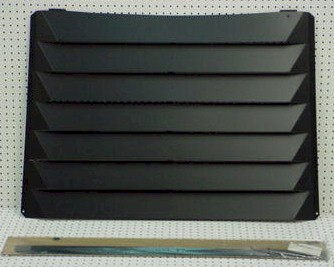 3/10/08 - I bought these on an eBay auction for $330. I originally bought them for the 1979 Buick Skyhawk that I owned at the time. They were a bit spendy but are metal, vintage from 1980, and brand new in the original box. These will replace to upgrade the vintage ABS louvers that Vern found for the Mirage. The ABS louvers are the exact style that I could afford, purchased at J.C. Whitney, as a teenager and that I had installed on my 1975 Olds Starfire.
---
---
Information Sites, Clubs, Other Monza Owners:
---
Copyright © 1996-2018 -- Mike Dunton -- All rights reserved